February 13, 2014 --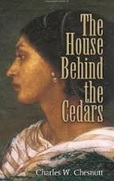 Sherry Meyer,
Milwaukie writer
Her blog, Found between the covers
Book Review of "The House Behind the Cedars" by Charles W. Chesnutt
Helping my husband locate a book on an adjacent library shelf, I saw this book and loved every page of "The House Behind the Cedars" by Charles W. Chesnutt (1858-1932). The subject matter, for me personally, is linked with my interest in Southern history and African-American slavery.
Chesnutt tackles the issue of "passing" in the post-Civil War South. "Passing" was the tradition among light-skinned or mulattos to pass for white, although ethnically they were considered to be Negroes.
The main characters in "The House Behind the Cedars" are brother and sister, John and Rena Walden. The novel is set in Patesville (most likely Fayetteville, NC). It is interesting to note that Chesnutt's family moved to Fayetteville when he was small. This may have a great deal to do with setting. Chesnutt's descriptions are clear and crisp. The reader can sense the house John and Rena grew up in, where their mother sits in the evening in the small town of Patesville.
Print This Post
Email This Post