First Lady's 2nd Inaugural Style
The dress that caused the fashion world to wait with breath bated was worth the speculative curiosity. Choosing to tap Jason Wu again, the First Lady wore a ruby Grecian pleated gown with chiffon overlay with a keyhole, criss-crossing neckline detail that seemed to shock many as she had worn very subdued tones throughout the weekend. Accessories included Jimmy Choo heels and a custom diamond ring by Kimberly McDonald.
Striking, yet contemporarily sophisticated, Mrs. Obama didn't shy from the spotlight, but instead owned it. Choosing to accentuate her trim waist and sveltely sculpted arms, I for one applaud her choice.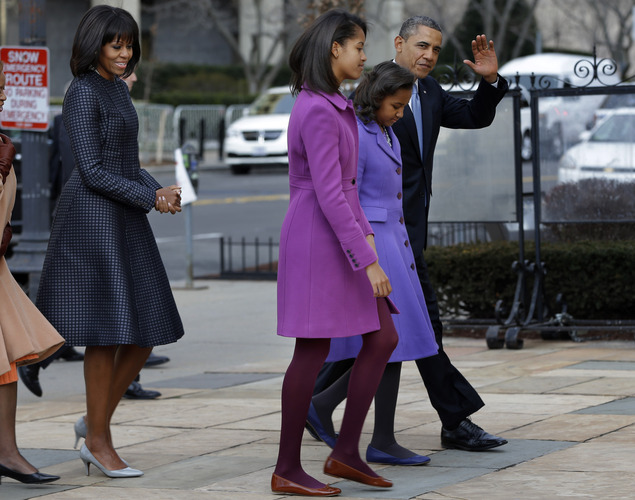 Politics aside, the added benefit of watching the 57th United States Presidential Inauguration was the fashion show that Michelle Obama, her daughters and Dr. Jill Biden offered to the audience. And for me, it was choice of accessories that I loved – the suede boots, the gloves and that Carrie Bradshaw-esque belt which took a supporting role in the first SATC movie.
Choosing to wear all American designers, she wore a Thom Browne (who hails from Pennsylvania) silk indigo checked coat and dress said to have been inspired by a men's necktie. For the family's attendance in the morning at St. John's Church in Washington D.C. she choose a pair of kitten-heels from J.Crew, then opting I'm assuming for more warmth a pair of custom designed Reed Krakoff leather and suede knee-high navy boots, as well as accessorized with plum J.Crew leather gloves and belt. For the Inaugural luncheon, the First Lady wore a Reed Krakoff cropped cardigan over her dress.
As far as the girls, while Malia Obama adhered to the J.Crew predilection for her coat and dress, Sasha wore a Kate Spade ensemble.
Dr. Jill Biden didn't disappoint either. During the last inauguration she stunned in a red coat and red inaugural gown, but this year she wore a muted, yet quite modern and sophisticated Lela Rose metallic gray coat along with a Lela Rose white embroidered scattered flower appliqué sheath dress.
For the evening inaugural balls, Dr. Biden also radiated as she wore a silk Vera Wang gown with draped back and Christian Louboutin open-toe heels.